Lisa D. Miller – Landscape Design & Customer Care Manager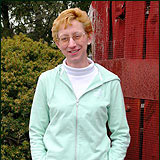 Education: B.S. in Horticulture with a concentration in landscape design, Virginia Tech., 1984.
Experience: Lisa came to Plantique in 1995 with ten years experience in the landscape industry. With specialized knowledge in annual and perennial design, she has been a vital member of our design staff. Some co-workers may say Lisa goes overboard with details, we just think she is extremely thorough. It's the finer details that customers have recognized and grown to appreciate. Identifying her strength in "attention to detail" is why Lisa was promoted in the fall of 2013 to Customer Care Manager. Lisa still designs projects today but can also handle your warranty claims, schedule conflicts and overall customer satisfaction.