Walls, Steps, Columns, Planters & Outdoor Kitchens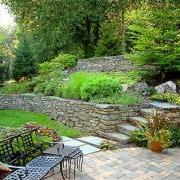 Besides being functional and attractive, mortared and dry laid stone, brick, or flagstone hardscapes can last a lifetime. Many times, designing and installing landscape structures involve more than just esthetics, as safety and durability issues come into play. Accredited landscape architects and designers, like those that make up Plantique's design team, have the knowledge and experience needed, to create both large and small-scale designs that:
Address issues such as drainage, erosion, soil type, structural integrity, etc.
Incorporate a solid, deep, frost-proof foundation into the project
Meet safety standards and local code regulations
To discuss your needs with us, please call 610-395-6940 or use our contact us form.
Below is a gallery of some of the custom hardscaping work we have completed: